Almanac
Almanac is a digital school calendar that organizes all projects, assignments, exams, and classes into one mobile portal.
Timeline
November - December 2016
Course
Visual Interaction Design
Type
Product Design, UI/UX
Tools
Sketch, Marvel, Photoshop
The Problem
"64% of university students rated the stress of studying for their degree as seven or above out of ten. A key source of stress is a perceived lack of control over a situation when it comes to deadlines and exams"
The Design Challenge
How can we design a product for students to alleviate the stress of workload and time management while giving them access to a fully organized schedule.
The Solution
Integrating a full student profile into an organized mobile calendar dashboard. Almanac helps students by providing them with a full organized schedule of their daily student tasks and term tasks. The student profile gives a detailed recommended breakdown of week to week tasks for assignments and exams, alleviating the stress of further planning.
For a more personalized experience, the product is personalized through the branding of each school.
Design Research
In order to understand the space further and create the right solutions, I had to be able to empathize with many different students. The initial research for this project began by simply interviewing students and professors of different backgrounds, skillsets, and academic behaviour. After over 20 discussions with a multitude of different student profiles and professors, my understanding of the problem became much more clear and defined.
These were some of the recurring paint points:
Too much time and stress being spent on planning instead of doing.

An overload of information is overwhelming to tackle.

Stress overload typically comes from the lack of task breakdown.

Minute problems such as looking up course & lab schedules is irritating and causes unnecessary mental fatigue.
Following our primary research, I moved onto creating a PACT and Competitive Analysis that helped me get an understanding the management pain points I wanted to help alleviate.
Using the primary and analytical research, specific personas were created to use as the target profile for who I was designing for.
Flow Chart
Following the research phase, I focused on creating a general flow chart for the product. This allowed me to visualize how the entire product would work from a wider point of view. Furthermore, by completing this process early on, it allowed me to quickly build on the overall product when needed.
Ideation Process
The ideation process focused on 3 main user flows. The on-boarding, view of weekly courses, and the breakdown view of assignments. I started sketching out different possible solutions with a few questions to keep in mind. Some of these questions included:
How can make the information quickly accessible

How can the overall experience help students with overall management

How can I build a seamless platform that students can familiarize themselves with quickly
Visual Design
Colour and font selection for Almanac.
Final Product
Introducing the first prototype of Almanac
The application on-boarding process goes through simple explanations of the primary features as well as a profile set up. For first time users, this allows them to get familiar with the product with a simple user experience.
With weekly, monthly, and yearly views, students can view their schedules much earlier in advanced if needed. Almanac provides the breakdown of each course and assignment, helping students stay ahead and mentally focused.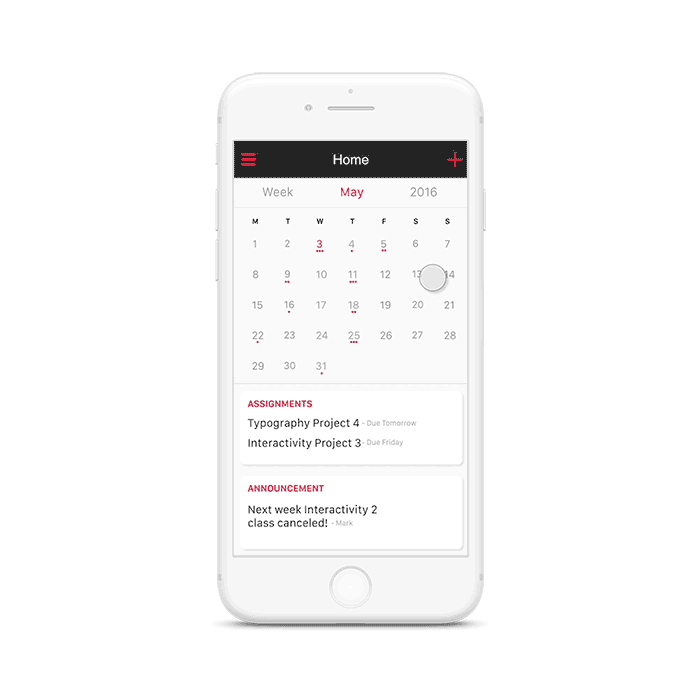 Full information of assignments are shown based on each course. Each assignment also shows a recommended week to week breakdown of tasks to help students stay organized, alleviating the stress of planning.